Review - hubz Ramat HaChayal
We went out to check out hubz, one of the new and talked about places in the co-working spaces market, located in the heart of Tel Aviv's high-tech.
Written by : Spacing | 07-05-17 | hubz
Bottom Line
Advantage: In the heart of the high-tech area, attractive price, large rooms and modern design.
Disadvantage: a relatively small complex, a quiet atmosphere for those who need the energies of people.
Bottom line: Highly recommended for technology professionals who love Ramat HaChayal and need a quiet environment to work at the Israeli hi-tech center.
The idea: arrive-connect-work
Hubz is a collaborative work space established by RED Bynat Group, one of the pioneers in the Israeli high-tech industry and is intended for start-ups, arketers, designers and even the self-employed in the professions. 
The complex was established at the beginning of April 2017 and is located in the Ziv Towers in Ramat HaChayal, the core of Tel Aviv's high-tech business. 
The need for flexibility and dynamism for employers and independents is growing, and so is the understanding that the next step in the evolution of office real estate is the establishment of a shared space. 
All these led to the establishment of hubz. The idea behind it is to provide a quiet work environment within the vibrant city.
So what does hubz offer us?
The complex is spread over one floor, containing 100 workstations in various modules: private rooms for 1-4 people, personal and fixed positions in a shared space, and hot desk positions (in the open-space, based on availability). 
Each stand comes with a table and chair, a personal bookcase and each room comes with a preparation for wired communication, a personal air conditioning control and a system for injecting fresh air. In addition to the work stations, you will find reclining areas, conference rooms, lounge corners for casual and informal meetings, a fully equipped kitchen with hot, soft drinks and snacks, and even a shower for those who want to refresh after a bicycle ride.
WIFI - there is a free wireless internet provided by two separate networks - one for renters and the other for guests - both providing download speed and up to 46 megabytes. In addition, there are basic office services, cleaning services, and building security 24/7.
Renters will be able to enjoy business, legal and accounting advice and will be able to meet with a variety of experienced business mentors, some of whom are from the Red-Bynat Group and their partners. The full package of services in the "all inclusive" format (arnona, water, electricity, etc.).
Seating positions, rooms and prices
The complex offers private rooms for one person starting from 2050 NIS and up to a room of 4 people starting from 6700 NIS per month. Room rates vary according to size / whether there is a window. Those who want an office atmosphere but not a private office can rent a personal stand in a shared office with up to 4 people. 
In the open-space, which is a shared work space, you can rent a hot desk position at a price of about 800 NIS per month and a fixed position at a price of about 1200 NIS per month. There are sitting areas for phone calls and two meeting rooms.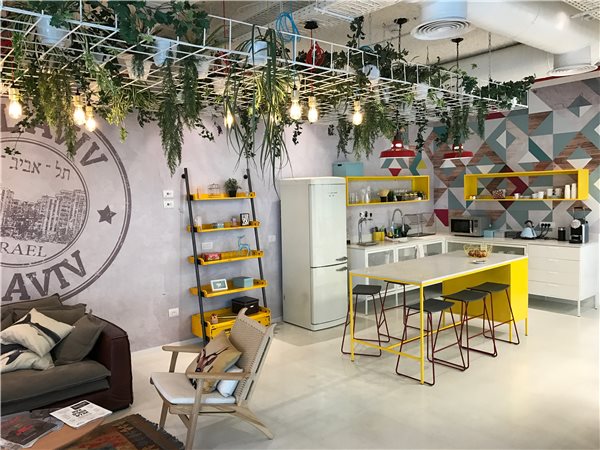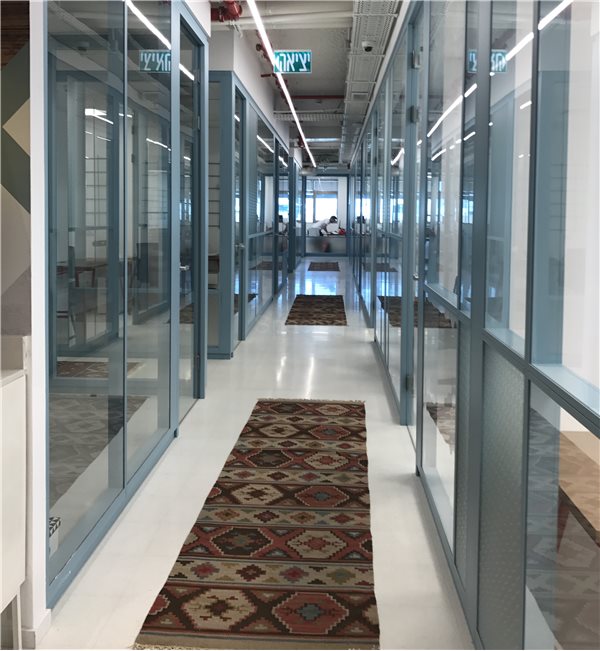 Design and atmosphere - bright, intimate and relaxed
One of the most obvious things when you arrive at the place is the peace and tranquility that prevails there. Although there are people in the compound, the atmosphere that characterizes the place is calm and intimate.
The design of the place is modern and bright, using elements of white and yellow colors, adding warmth and homely to the place. The complex has many windows throughout the facade and provides light, both to the outside offices and to the internal offices.
How to get there?
The complex is located at 24 Raoul Wallenberg Street in Ramat HaChayal and can be reached by car, train and bus. The complex offers tenants a monthly subscription to parking in the building at an attractive price, at a cost of 500 NIS per month, while the regular price per subscriber in the parking lot is 1000 NIS or more. It also offers an arrangement for the guests of the complex and provides a discounted price for parking compared with parking lots in the area.

Arriving by train: There are free shuttle buses, which are synchronized with train hours and reach the front of the building. The activity hours are 7: 30-18: 30. 

Arriving by bicycle: In the building there is a locked storage room with charging positions and a bicycle lock, and there is also a shower for those interested in refreshing.
What are we eating?
The complex itself offers soft, hot drinks, cookies and fruit. 
For restaurant enthusiasts, Ramat HaChayal offers a wide variety of restaurants within a few minutes walk from the complex. And the food? About anything you want.
hubz