Coworking spaces in Raanana
Raanana
7 spaces found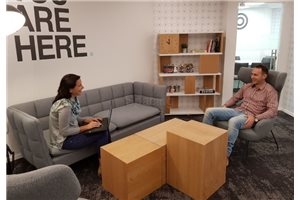 From ₪1,300/Month
Zarchin 10, Raanana
LinkCo is a co-working space designed for freelancers, entrepreneurs and companies. It offers a range of "all inclusive" spaces. At LinkCo tenants will find a comfortable working environment that will allow them to establish business relationships and cooperate with other tenants. Guests will also enjoy a fully equipped kitchen. LinkCo is located in the industrial zone of Ra'anana.
From

₪1,300/Month

City

Raanana

Reviews

5

Score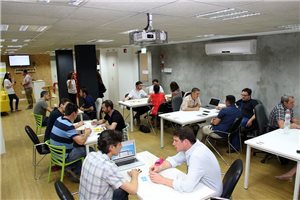 HaCharoshet 27, Raanana
Hubanana is an accelerator for early stage projects, and in the field of technology or business innovation. In order to be part of the incubator, a screening interview must be conducted. The complex is located in Ra'anana.
From

Soon

City

Raanana

Reviews

2

Score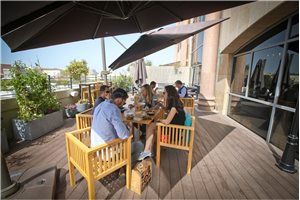 Yachin Center Complex, Netanya
Vibe Poleg is a modern, spacious work space designed for entrepreneurs and companies of all sizes. The complex offers an open-space and private offices of various sizes, a business lounge, a large terrace for events, communal lounges, conference rooms, a fully equipped kitchen, and more. The tenants of the complex enjoy technological and business connections, knowledge expansion, community services and business development, connection to investors, and more. Vibe Workspace is located within the Poleg Industrial Zone in the heart of the Y-Center complex.
From

Soon

City

Netanya

Reviews

11

Score
From ₪550/Month
HaTaasia 21, Raanana
Coworking Israel complex, that is located in Raanana, offers a work space for entrepreneurs and self-employed people in the high-tech area of ​​Raanana and is open 24 hours a day. The price includes internet, electricity, taxes, furniture, use of conference room, hot drinks and cleaning services.
From

₪550/Month

City

Raanana

Reviews

2

Score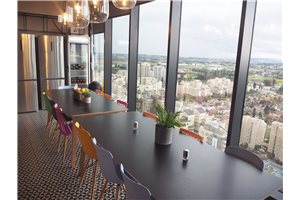 From ₪1,400/Month
Rapaport 3, Kfar Saba
Sarona Space is designed for start-ups and offers its tenants constant support and accompaniment throughout the company's development process. Sarona Space is open 24/7 and offers meeting rooms, private offices, fully equipped kitchen, enrichment sessions, office services, Happy Hour, breakfast once a week and more.
Sarona Space Kfar Saba is located in the new neighborhood of the city, in the green Kfar Saba mall, near the Kfar Saba-Ra'anana junction.
From

₪1,400/Month

City

Kfar Saba

Reviews

8

Score
From ₪999/Month
Zarchin 13, Raanana
Regus Raanana is located in one of Israel's most significant industrial zones, close to high-tech companies from telecoms to internet services. An energetic, modern, and contemporary business center that allows its members to create and innovate.
From

₪999/Month

City

Raanana

Reviews

0

Score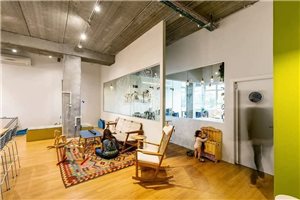 From ₪1,760/Month
HaCharoshet, Raanana
Mommy Work This is a collaborative work space in the Open Space, designed for self-employed at the end of the maternity leave, who are looking to develop themselves and their careers alongside their parenting. The complex includes a work area and multi-age space for toddlers with nannies, age-appropriate games, activities and more. In Mommy Work, new parents can work alongside other parents and stay close to the children.
Mommy Work provides the service for self-employed and salaried employees with infants up to the age of three. The first branch is located in Ra'anana, near the Renanim Mall.
From

₪1,760/Month

City

Raanana

Reviews

3

Score
Raanana coworking spaces - A city that has become synonymous with international hi-tech, with companies such as Amdocs, Microsoft, Nice, SAP, Retalix, HP and others. The life of Raanana's entrepreneurs and businesses is surrounded by a high-tech industry, parks, quality population, accessibility to all the cities of the Sharon and Tel Aviv.