5 spaces found
5 Coworking spaces found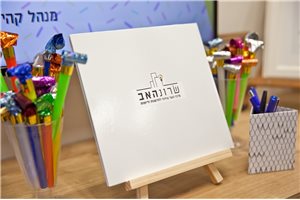 Alof kalman magen 3 , Airport City
Sharonhab is an urban youth center for innovation and entrepreneurship, by the Tel Aviv-Yafo Municipality, which is home to the entrepreneurial youth community in Israel. Developing knowledge and capabilities through technology courses / workshops / lectures, all aimed at providing youth with tools and community to create technology projects with social and business emphases. Open to rent for meetings, seminars, lectures, etc. when proceeds go directly to the local budget, in order to continue to be a free work space for every boy and girl.
From

Soon

City

Airport City

Score

(1)

no phone

Contact us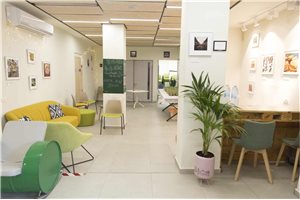 Vardiel 17, Airport City
Radial 17 is the young home of southern Tel Aviv, located near the entrance to the Hope Market. The complex works to give young people in the south of the city, ages 18-35, various platforms and responses relevant to this time period and offers free sitting / study space open every day, different rental spaces, employment consulting, education, scholarship and more, and a rooftop overlooking the entire southern city. And will serve as a home for various cultural events.
From

Soon

City

Airport City

Score

(1)

073-758-8189

Contact us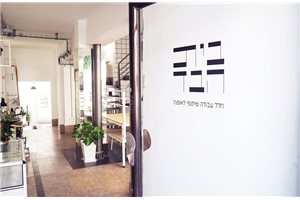 From ₪240/Month
Menahem begin10, Airport City
The Fabric House is a collaborative work space for fashion and the first sewing of its kind in the country, for beginning designers, students and sewing lovers of all kinds. The place is meticulously designed, equipped with high-quality professional equipment and creates a creative and pleasant atmosphere for work. The Canvas House provides image and sewing services and there is also a professional team accompanying the creators in the creative process. The members of the venue enjoy content evenings, lectures, workshops, fashion and pop events, in the fashion and textile fields.
From

₪240/Month

City

Airport City

Score

(0)

073-783-4621

Contact us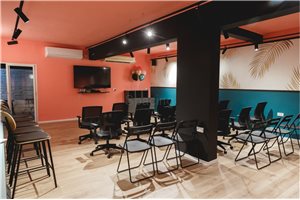 Dov hoz 25, Airport City
Max Home is the place for independent women. Here you can rent a comfortable, spacious work position, and enjoy the content and lectures for business development, accompanied by a vibrant business and community of independent women. The house also allows for space rentals for lectures and courses, along with advertising on our site and in the follower community, of course. Maximum Home You are centrally located in Tel Aviv, yet you can concentrate, focus and develop your business under optimal conditions.
From

Soon

City

Airport City

Score

(0)

no phone

Contact us
From ₪1,900/Month
Harehev 1, Airport City
At NG Office you will find a variety of modern and designed office space for short and long term rental, fully furnished and equipped shared meeting rooms and coffee and food break areas. Payment includes bills, cleaning, electricity, property taxes, internet and office maintenance expenses.
From

₪1,900/Month

City

Airport City

Score

(0)

073-759-0175

Contact us
Airport City coworking spaces - A business park and a high-tech industry in the jurisdiction of the Hevel Modiin Regional Council, located east of highway 40 near Ben-Gurion Airport. The name of the place was chosen by virtue of its proximity to Ben Gurion airport. The place is owned by Airport City Ltd., a public company whose shares are traded on the Tel Aviv Stock Exchange. The area for the park was purchased from Moshav Barkat.