3 spaces found
3 Coworking spaces found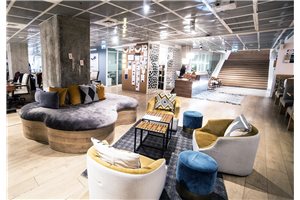 From ₪900/Month
Ehad Ha'am 9, tel aviv
A second branch for Urban Place located in Shalom Building on Ahad Ha'am Street in Tel Aviv. Urban Place's business area includes spice stations and private offices for a couple of up to 6. In Urban Place you can relax in a pleasant lounge and enjoy a well-equipped kitchen, and the Urban Place entrepreneurs will give you tips and business advice in a variety of areas.
From

₪900/Month

City

tel aviv

Score

(1)

073-759-4879

Contact us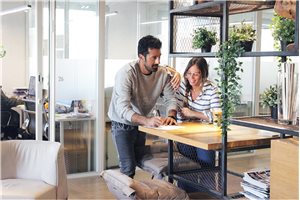 From ₪4,200/Month
Rothschild 3, tel aviv
The first branch of Urban Place is located in the Psagot building on 3 Rothschild Boulevard in Tel Aviv. The Urban Place complex includes open spaces and offices ranging from a couple to six people. When the company plans to expand its activity in April 2017, with an additional 2,700 sq.m. at Shalom Meir Tower on 9 Ahad Ha'am St. in Tel Aviv (adjacent to Rothschild 3) Open space price 1,380 NIS for monthly rent, at a regular table, Equipped with a lounge area, and use of the conference room for several hours a month.
From

₪4,200/Month

City

tel aviv

Score

(0)

073-702-8468

Contact us
From ₪690/Month
Yafo 224, jerusalem
Urban Place has launched a new branch in Jerusalem. The branch includes spice mode stands, offices, conference rooms and more. In addition, the branch also has bedrooms, a gym, salon and beauty, a synagogue and a gym.
From

₪690/Month

City

jerusalem

Score

(3)

073-702-7499

Contact us
About Urban Place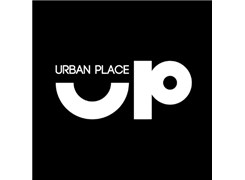 Urban Place currently operates two branches, with the third branch due to open in April 2017.
The first branch, located in Psagot Building on Rothschild Blvd., is designed for start-ups, companies and private entrepreneurs, and covers 900 square meters, including private work desks, small offices and upgraded offices, at the beginning of the year the company rented the entire floor, "Urban Place reports that occupancy at the branch is full to zero, and it is expanding its activity in the city.
The pop-up area in Ahad Ha'am - the shared urban space for the Urban Place - will allow you to rent a single, unobstructed work station at Shalom Tower in Tel Aviv
At the work station there will be a connection to the network, coffee and free hot drinks stations, a kitchen, a shared space for meetings, etc. The pop-up complex includes 50 positions in a shared space in prime location - adjacent to Rothschild Boulevard.
The company will open its third site in April 2017 at the Shalom Meir Tower on Ahad Ha'am St. 9. The complex will cover 2,700 meters - two floors - and will include open space, offices with monthly rent from one to six people. In addition, an executive area and a fitness room will be opened for community use only.
Latest reviews on Urban Place
אורבן פלייס רוטשילד - abhi02666 ‏
(04/07/19)
i am really happy to say it's an interesting post to read. I learn new information from your article, you are doing a great job. Keep it up. and if you want any tv repair. so contact our services.
tv repair