1 spaces found
1 Coworking spaces found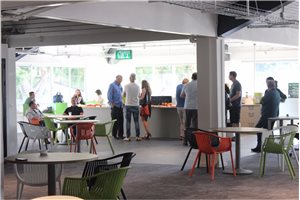 From ₪900/Month
Ruppin Campus, kfar monash
Yarok extends over 2200 square meters within the Ruppin campus and offers offices with two stands and three work stations, conference rooms, a conference hall, a coffee shop and a production laboratory that will provide solutions for entrepreneurs who wish to create a prototype for the product.
In addition to the Yarok Work Spaces, it will include a unique track for escorting and empowering entrepreneurs and the Emek Hefer Robotics Club as well as scientific and technological activities for youth and adults.
From

₪900/Month

City

kfar monash

Score

(9)

073-784-3211

Contact us
Kfar Monash coworking spaces - Kfar Monash is a moshav in Emek Hefer in the Shfelat Hefer, on the old road between Beit Lid and Hadera. The moshav is small, quiet, its character is agricultural and the community life is rich. The community provides its residents with services for their welfare: a health fund, a secretarial office, a swimming pool, a sports field and a grocery store. In addition, the settlement is accessible due to public transportation that Egged operates during the day.