Coworking spaces in Ashdod
Ashdod
2 spaces found
2 Coworking spaces found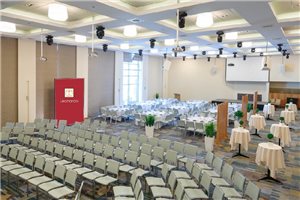 HaYam Hatichon Blvd 1, ashdod
Leonardo Plaza Ashdod offers a number of conference rooms to accommodate up to 550 people. Accessories can be ordered in advance, such as a podium, microphone, projector and more. In addition, the hotel offers well-equipped conference rooms with a balcony overlooking the sea.
From

Soon

City

ashdod

Score

(1)

073-758-9007

Contact us
רבא 14, ashdod
The complex offers rented, well-equipped clinics for therapists of all kinds. Includes waiting room, coffee corner, office and toilet facilities. Secretarial services are also available.
From

Soon

City

ashdod

Score

(1)

no phone

Contact us
Ashdod coworking spaces - Ashdod is the sixth largest city in Israel based on population. the city is located in the southern district. Ashdod, which was declared a city in 1968, lies on the shores of the mediterranean sea on the southern coastal plain, south of Yavne and north of Ashkelon. Ashdod is home to many businesses due to its size and proximity to the sea. In addition, the city has a selection of restaurants and entertainment venues.