About utopia
Amenities
‏Close to train station

‏Close to bus station

‏Free parking

‏Dog-friendly

‏Mentors meetings

‏Happy hour

‏Soft drinks

‏Beer

‏Snacks

‏Wifi

‏Printing services

‏Staff

‏Showers

‏Open on saturday

‏Open on friday

‏Open 24/7
Show more
‏Gym

‏Swimming pool

‏Sport classes

‏No commitment

‏1 day min.

‏1 week min.

‏1 month min.

‏2 months min.

‏City residents only

‏Designers only

‏Requires a screening Interview

‏Social ventures only

‏Technological ventures only

‏Worldwide access
Map of the area
Where to eat
The complex is intended for private and business events and therefore serves meals, there are a small number of restaurants in the area

About outopia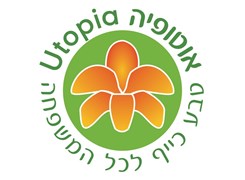 The Utopia Park conference rooms are an option for companies and small business owners who wish to hold meetings and training in designated areas that are suitable for business audiences. In the conference rooms you will find everything you need to have a meeting - such as advanced technological means, kosher catering and more
Reviews
Write utopia
User images
Be the first to add images
Google Reviews
Reviews score
4.2

/ 5

Great place for families. Been there many times and definitely will come back!

Doron Abecassis

18/01/2020

Looks like the parks maintenance was on vacation for the last 10 years. The kids liked (hence the 3 stars) it but it was lame. The WC were dirty and smelly.

Beautiful plants, birds. Good day out. Not cheap and in need of some maintenance. The highlight is supposed to be the musical fountain display, but the water in the lake is dirty and neglected.

10 years ago it was a much better place to visit. Today, beside the parrots, it's not worth the money.

There are hundreds of types of Orchids and many other unique plants to see as well! Nice place to visit!

Lucky for us we arrived very early on a weekday, and it was a great decision! Free parking, close to the entrance. The staff was nice and welcoming. It's nice to go through the Garden and see all of the beautiful plants and trees, you can actually buy almost any flower or plant you see inside. The place is very clean and organized. I would skip the "water show", seems like it didn't had maintenance in a while and most of it doesn't really work...
utopia Facebook
Latest Tweets by utopia
הכירו את האייל הנקוד שבפארק אוטופיה - http://t.co/dEarposhUm
Sun Dec 15 10:18:47 +0000 2013
UtopiaPark_IL
חוגגים ונהנים בחנוכה! הצטרפו למאות המבקרים שכבר הגיעו לבלות איתנו בסדנאות, בפעילויות ובאטרקציות השונות שהשקנו לכבוד חג החנוכה! חג שמח :)
Fri Nov 29 09:59:29 +0000 2013
UtopiaPark_IL
ימי הולדת למבוגרים בפארק: http://t.co/pMj6KQqg9g
Wed Nov 20 12:51:22 +0000 2013
UtopiaPark_IL
יום כיף בפארק :) http://t.co/JvnxruC7QS
Thu Nov 07 09:10:06 +0000 2013
UtopiaPark_IL
כנס חברת Husqvarna - היום התארחה אצלנו החברה ונהנתה מיום מושלם הכולל אולם, תערוכה, סיור וארוחה טעימה :) http://t.co/x2FJsswMnT
Tue Nov 05 14:37:43 +0000 2013
UtopiaPark_IL
Coworking spaces near utopia
Write a review